Megha Rangaswamy AI developer
I'm happy to be part of the alugha team. I stay where I am happy and motivated to do things.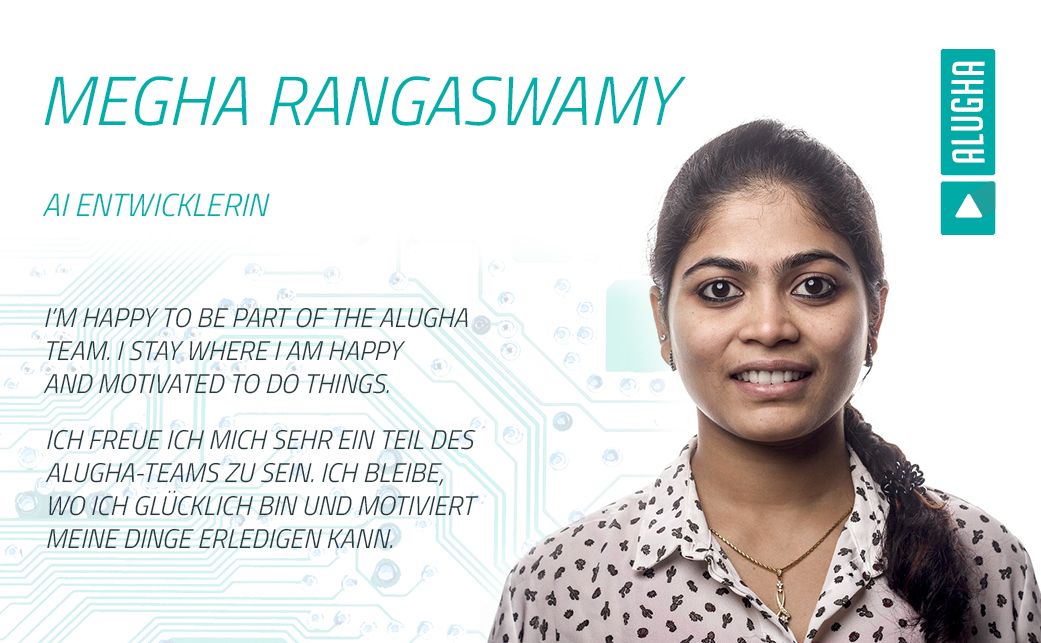 Read this article in: Deutsch, English, हिन्दी
Estimated reading time:
1
minute

Briefly introduce yourself: Who are you and what do you do?
I am Megha Rangaswamy and I'm doing my master's in data science at the University of Mannheim. I come from Karnataka, a state in India. 
Which three words describe you best?
Creative, entertaining, calm
How are you different now than you were ten years ago? 
I was in 8th grade and, to be frank, I had no idea what to do with my life. I had no plans for my future and I probably had never thought about traveling alone to a different country and leaving my family. But now, I am here in Germany, on my own, and I am fine. In those 10 years, I've learned so much about several topics, about technologies, but above all about "life".
What is your favourite thing to do in your freetime? 
Cooking.
What are your tasks at alugha?
AI development. Machine learning tasks for the Alugha website. 
What guided you to alugha?
I had no particular motivation when I applied to Alugha. But now, after knowing what Alugha is, I am really happy to be part of it.  
Why do you like being an alughian?
It's doesn't really feel like a big company, it's rather a family with many people. I love to be part of this family.
Where do you see yourself and the company in the future?
I never make fixed plans. I stay where I am happy and motivated to do things.
What is your own big dream?
To go on a world tour with my mother. I hope I can do it within the next 20 years. 
#alugha
#doitmultilingual 
#alughacrew
Good to see that you are travelling on the right track!! Keep going. Future will never fail to amuse one who invests hardwork, with wonders. Cheers!

Ganz toll, dass du dabei bist.

It is great to have you in the team! I am sure we will rock science together :) -btk
More articles by this producer