WORLD PREMIERE - ALUGHA WILL UNVEIL THE DUBBR AT SXSW 2019 IN AUSTIN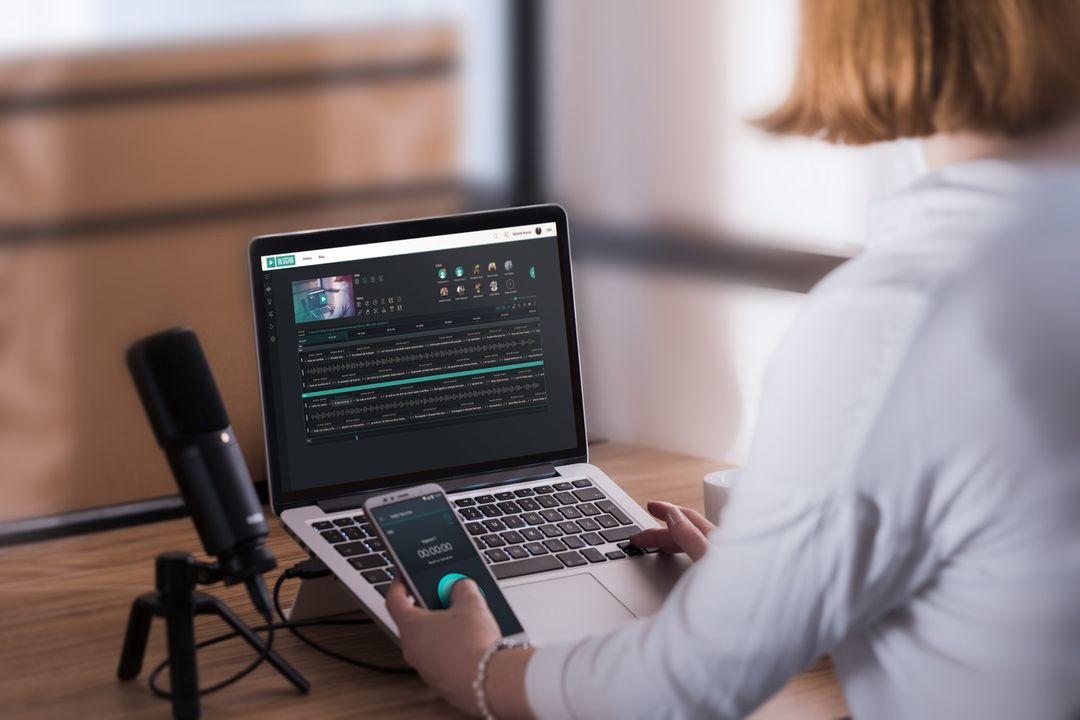 Read this article in: Deutsch, English
Estimated reading time:
4
minutes

Alugha redefines the dubbing world. The online tool offers everything you need to make your videos accessible to an international audience through multiple language tracks. No studio needed, directly in the cloud and accessible from anywhere at anytime.
Alugha brings the multilingual world of videos to Austin and will unveil the dubbr at SXSW 2019. The dubbr is an online software solution that combines all the programs and workflows needed to create multilingual videos into one SaaS solution. The users are given all the tools to multilingualize their videos. Unlike software such as Pro Tools or Adobe Audition, you can directly create in the browser a transcript of the video, translate it, record a voice-over with a microphone and then publish it. Everything from a single source, in a single tool, without additional licenses and without having to buy additional software.

In order to optimize the workflow even further, the dubbr offers many features to partially automate each work step. From transcript to dubbing, the workflow couldn't be more simple. The dubbr has its own Speech2Text engine, which is based on an AI that has been specifically developed for it. The AI learns with every video, transcript and dubbing and so enables you to convert the language of the original audio track into a text that can subsequently be used as a transcript.

The dubbr is decentralized and enables remote working. That way, producers, translators and voice actors can work on the same project in real time - worldwide!

A special highlight is the individual configuration options and the management of the respective metadata in the video editor. You can customize publish date and status, title, description, tags, thumbnails, background image of the video page, child protection, and licenses for each language. As a result, each language of the video will be found and indexed separately. This makes this feature a strong asset for video SEO.

Moreover, the additional feature of an international audio track enables you to store sounds and music separately from the voices. For example, documentaries, interviews, and movie versions can be synchronized and published completely online in multiple languages. In addition, you can directly add background music through an upload window and the automatic ducking reduces the level of the original audio track during a voice-over.

Another big advantage is that no additional costs for licenses and third-party software arise. Since the dubbr is a tool developed by alugha, it will be included in all regular alugha accounts starting with beginner package.

"In the age of digitalization, it is important to reach as many people as possible with your message. With the dubbr, we have succeeded in developing a tool with which you can become a global player simply with your video. It was very important to us to keep the effort needed as low as possible. The combination of dubbr and our toolkit makes alugha the perfect multilingual video platform," says Bernd Korz, CEO of alugha.
About alugha
Alugha is a video platform designed for multilingualism. In addition to the dubbr, alugha offers video hosting, a proprietary HTML5 multitrack player and online software to manage multilingual videos. The technology used enables you to combine all languages in the world into a single video and to publish it with little effort on your own website and many more platforms including social media such as Twitter or Medium as well as alugha.com. It's our mission to connect, educate and inspire people through knowledge and ideas - always freely accessible and without being held back by language barriers.

For more information about the dubbr and alugha, visit our press area or write us an email: press@alugha.com.
Videos by this producer
BR - Alugha für Mehrsprachigkeit: KI im Wahlkampf - Melis Segmen VON: Jasper Ruppert Ausstrahlung am 12.9.2021 Original: https://www.br.de/mediathek/podcast/das-medienmagazin/20-jahre-nach-09-11-ikonographische-bilder/1836421
Mit unserem Stammkunden COMPUTOP aus Bamberg haben wir bereits 3 Filme produziert. Einer davon erklärt MOBILE SDK. Dieser Film ist in zwei Sprachen verfügbar. Viel Freude beim ansehen! Film: ENGLISH VERSION Stil: FLAT DESIGN Sprache: Deutsch & Englisch (Deutsch: https://youtu.be/NdxTA0AUIC8) Län