Steve Blank: Minimum Viable Product
As a startup, resources like money and time are very limited. Developing a product that nobody wanted one way or another can quickly mean the end. So consider the minimum requirements for your products and come out with it.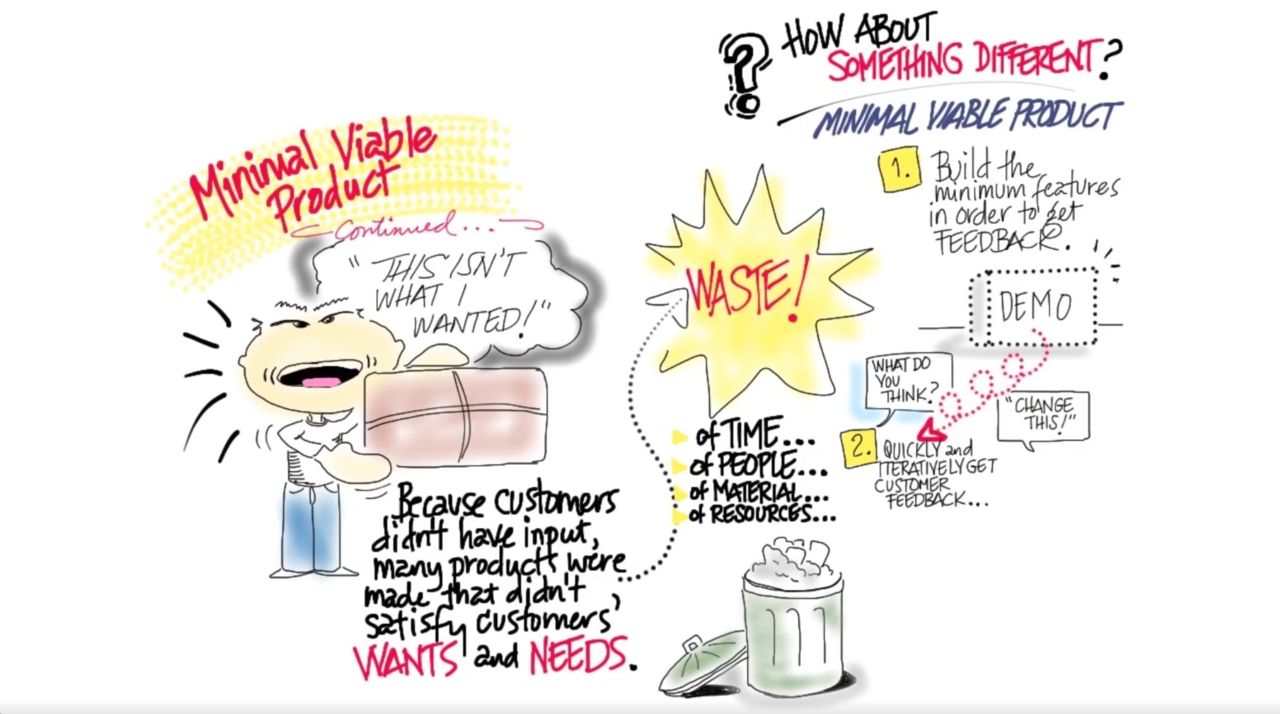 Read this article in: Deutsch, English, Español
Estimated reading time:
3
minutes
When we came out with our first version of alugha, I had to take some criticism from colleagues. Why would I release a half finished product like this? I would just burn our brand with it. The design was unfinished, functions were missing, here and there the user would not understand what to do. I took note of all this at the time, but made the decision anyway. But why did I make that decision?
We had ( and have ) a requirement specification / a roadmap of functions that we would like to see in alugha - but only gradually. I am convinced that these functions will be very well received by the market, but for some they are still too early or our approach is not yet the right one. Here and there basic functions are missing, which are urgently needed to actually develop and implement these new functions. The question now repeats itself: Why did I make such a decision, why didn't we first finish everything and then come out with it?
A startup is usually limited in important key resources such as finances, marketing or employees and this starts with in-depth market analyses. These are expensive and time consuming. However, a startup has the charm that you can release a not so perfect product on the market and unlike a car or a produced smartphone, it has an advantage software-wise. You can run updates and improve the product bit by bit according to the requirements and wishes of the users.
I decided back then that we would release our player, even if it only worked on YouTube at the time. This gave us a lot of insight and we were able to optimize it with every new version. When we then extended it to other platforms, we quickly realized that the player's foundation ( the framework ) was not good enough. We had lost some resources. If we had decided to develop everything first and not get any valid data from the users, the damage would have been much higher.
My experience is that you should have a big goal - a vision that you put on paper and then divide into individual steps. It is very important for us to remain flexible and to be able to take alternative paths in order to react to the market with our product. Once we've reached the minimum requirements for our product - for us it was the change of languages in the player, as well as the ability to add them as easily as possible via a small back-end - we should test it on the market, collect feedback and improve it. Do not waste too much time on perfectionism and do not be too fond of detail, because that will only harm you. You will always come to a point where you have to make the decision that it starts NOW and you have NOW reached the minimum requirements.
If you don't take that into account, it's gonna be hard for you. And a little advice at the end: Criticism is always positive, no matter how it comes across and by whom. It helps you to improve your product. Accept it and leave out everything else that might "resonate". And : Communication is everything!
This article is written by our CEO, Bernd Korz. With his experience as an entrepreneur, he shares his vision about the lessons provided by Steve Blank. Join us every week for a new article on Steve Blank's lectures.
More information on Steve Blank:
#alugha
#everyoneslanguage
More articles by this producer
Is it necessary to have multilingual videos even though you only operate in a local market?
As a result of globalization, more and more people speak one of the major world languages, while regional dialects constantly lose importance at the same time. People want to communicate worldwide, and they can not do that with only speaking their regional languages. We'll tell you more about the gl
Our alugha page exists in 16 languages, one of them is Chinese. We cover the most spoken language in the world with that. Have we done our duty? Do we really reach most people on the global Internet?
Videos by this producer
I decided a few days ago to switch from Firefox to the EDGE from Microsoft completely after I have extensively tested it for three months. Unfortunately my entire AutoFill data has been completely destroyed. I could not find a way to delete them. Even deleting the browser data did not really help me
As a result of globalization, more and more people speak one of the major world languages, while regional dialects constantly lose importance at the same time. People want to communicate worldwide, and they can not do that with only speaking their regional languages. We'll tell you more about the gl